06/10/14 13:00
Starters orders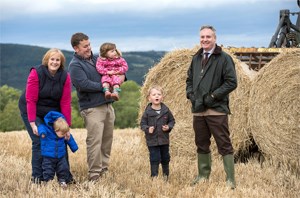 Rural Affairs Secretary visits first Scottish Government starter farm.
Tenants at the Scottish Government's first ever starter farm are settling into life and work.
Cabinet Secretary for Rural Affairs Richard Lochhead visited Balrobert Farm near Inverness to see the work underway by new tenants Douglas and Grace-Ann Bennie.
The Bennies and their three young children moved to Balrobert, after being selected in an open competition for new entrants earlier this summer. The 120 hectare unit, which includes grazing and cropping land, is enabling the growth of the Bennie's livestock enterprise rearing store cattle.
Whilst this is the Scottish Government's first starter farm, it is the tenth in Scotland. There are currently seven Forestry Commission Scotland starter farms in operation, with a further two units planned, as part of a pilot initiative introduced in January 2012.
Mr Lochhead said:
"It is fantastic to come here to Balrobert to see the progress the Bennies have already made after becoming tenants a short time ago. They're a great example of the fresh farming talent we are hoping to support. Including the Scottish Government's unit at Balrobert, there are now ten starter farms around the country, each providing welcome opportunities for new entrants who represent a vital part of the industry. I wish the Bennies every success in their endeavours here and look forward to seeing them make the most of what is on offer at the Balrobert starter farm."
Douglas Bennie said:
"We are delighted to be up and running here at Balrobert Farm. Grace-Ann and I have been rearing store cattle for the last four years on seasonal land and having the chance to come here means we can now consolidate and build this business and are able to dedicate all of our time to farming. The value of this opportunity can't be under-estimated and has the potential to be life-changing for our family. It's great to be here and we are already relishing the reality of farming at Balrobert."
Notes to editors
Douglas and Grace-Ann Bennie from Fife took entry at Balrobert Farm on 15 September 2014.
They've been involved in farming throughout their lives and have three young children -Alexander, Molly and John.
Douglas was raised on a beef and sheep enterprise where he gained his love of livestock, and also gained experience at his Granddad's dairy unit and other local farms. Douglas left school at 16 and attended Elmwood College, Cupar, where he gained a National Certificate in Agriculture. He then progressed onto Auchincruive College in Ayr to specialize in Poultry Management as he felt that there were limited opportunities for a management career in mainstream livestock production at that time. There, he obtained a Higher National Certificate in Poultry Management.
Grace-Ann was raised on a stock and arable farm until she was 11 years old, and although not living on a farm she remained heavily involved with farming and agriculture through her extensive involvement with young farmers. She went onto University and has a Higher National Diploma in adult nursing and also a Bachelor of Midwifery.
An open application process for the tenancy of the starter farm at Balrobert was announced in June http://news.scotland.gov.uk/News/Starter-for-ten-d34.aspx