27/09/13 10:32
Street Soccer nets 2014 Legacy boost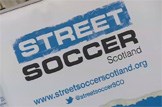 £300,000 funding to deliver positive change through football.
Thousands of disadvantaged Scots will get new opportunities through football with the support of £300,000 funding announced by First Minister Alex Salmond.
As part of a Scottish Government commitment to deliver a positive legacy from the Commonwealth Games in Glasgow next year, Street Soccer will expand its programmes for young men and women leaving care or those not in education, training or employment or facing challenges such as homelessness, mental health problems or addictions.
As well as the chance to play football, Street Soccer Scotland programmes offer advice and access to various services that young people may otherwise not be aware of such as education, health and welfare support, as well as training and employability opportunities, including a 'Football Works' personal development, coaching and work placement initiative leading to SQA qualifications.
Mr Salmond announced the support during a visit to Aberdeen Sports Village where he saw a Street Soccer 'drop-in' session, offering players a chance to meet new people, improve physical and mental health and increase confidence in a safe, positive environment.
The First Minister said:
"Street Soccer Scotland shows how sport can bring people together, offer new opportunities and achieve positive change. I'm delighted that thousands more young Scots, many of them facing great challenges, will benefit from Street Soccer programmes as a result of our commitment to securing a positive legacy from the Games.
"Next year provides a once-in-a-generation opportunity for individuals and communities across Scotland. We have planned early, we're getting programmes in place already and people are benefitting right now."
Street Soccer Scotland will deliver a series of programmes over two years in Glasgow, Edinburgh, Aberdeen and Dundee with 37,500 places for young men and women and sports coaching qualifications for as many as 600 individuals. While mainly focused on young people aged 16 and above, the new funding will also support the provision of Street Soccer sessions in a number of schools.
Street Soccer Scotland founder and CEO David Duke commented:
"Becoming a Legacy Partner for the Commonwealth Games is a tremendous endorsement of the work we've been successfully delivering, with our partners, over the last few years. The financial support from the Scottish Government will accelerate our plans and let us roll out our programmes, across Scotland, quicker than we had originally planned.
"The real, positive impact our projects have on many of the most vulnerable and socially disadvantaged people in our communities can only be enhanced with this level of support."
Notes to editors
Street Soccer Scotland is an award winning social enterprise which uses the power of football to promote positive change in the lives of socially disadvantaged adults and young people across Scotland.
Services include:
• Scotland Homeless World Cup Team
• Free Drop in Sessions
• Youth Services
• Female only sessions
• Personal Development
• Educational Programmes
The Street Soccer 'drop-in' sessions started at Aberdeen Sports Village last month following confirmation of the funding that has been announced today. The Sports Village development received £7 million funding from sportscotland, with a further £5 million provided to help the construction of a 50 metre pool on the site.
The Village also hosts Scotland's first disability sports hub and one of 150 community sports hubs which the SG aims to establish by 2016 as part of the 2014 Games legacy.
David Duke was named as The Sunday Times 'Change Maker' of the Year in 2012 and has been recognised by Edinburgh's Queen Margaret University which awarded him an Honorary Doctorate for his work in this field. David is also Global Ambassador for the Homeless World Cup organisation, Champion for Youth Housing and Homelessness for National Charity Quarriers and was Named by 'Big Issue' as one to watch in 2013.
See more information at: www.streetsoccerscotland.org
Legacy 2014 is ensuring the Commonwealth Games in Glasgow delivers positive and lasting benefits for the whole of Scotland. From delivering jobs, training opportunities, strengthening the economy, developing cultural connections at home and internationally and inspiring people to be more active, the Games will benefit everyone.
See more information at: www.legacy2014.co.uk