03/10/13 09:53
Strengthening Scotland's links with India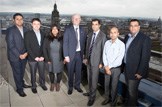 Minister joins the Queen's Baton as it starts its international relay.
External Affairs Minister Humza Yousaf will visit India this month to strengthen Scotland's education, business, tourism, cultural and diplomatic links with the country.
Mr Yousaf will depart on October 10 as the Commonwealth Games Queen's Baton Relay starts its 288-day journey around all 71 nations and territories of the Commonwealth. The Baton's first destination will be New Delhi.
The Minister will undertake several business, cultural and diplomatic engagements during his six-day visit to New Delhi and Mumbai. He will meet representatives of government as well as existing and potential investors across a range of sectors.
Mr Yousaf will also host or attend events to promote Scotland as a place to study, visit, live, work and do business. His programme includes engagements designed to promote Scotland's unique higher education system in India, and to learn more about the crucial impact of the Scottish Government's International Development Fund on some of the country's poorest communities.
In preparation for the visit, Mr Yousaf today met with Indian students at the University of Strathclyde, some of who have been supported to study in Scotland through the Scottish Government's Saltire Scholarship programme. His meeting follows publication of the Times Higher World Universities Ranking which puts five Scottish universities in the world's top 200.
Speaking from Strathclyde University, Mr Yousaf said:
"Our relationship with India is very important to Scotland. As one of the world's fastest expanding economies and an important investor in Scotland - providing around 3,200 Scottish jobs - India is a major priority for our overseas engagement.
"Scotland's remarkable strengths in education, technological innovation and cutting edge research and development mean that Scottish companies are ideally placed to take advantage of this growing market.
"Our links with India are already strong and this Government's ambition is to further strengthen our existing links – by securing new inward investment, encouraging more students to enrol at our universities, and enticing more tourists to visit Scotland.
"The whole country is gearing up for 2014 – when Scotland welcomes the world to what will be the greatest Games ever. The Scottish Government is determined to capitalise on the economic opportunities of the Games to leave a lasting legacy for Scotland.
"Next summer Glasgow takes centre stage and by capitalising on the excitement and momentum around the Games and through events such as the Queen's Baton Relay, we can showcase to the Commonwealth why Scotland is a great country in which to live, study, work, invest and also to visit."
Notes to editors
Photos from Mr Yousaf's meeting with students from India at the University of Strathclyde will be posted on the Scottish Government's photostream at http://www.flickr.com/photos/scottishgovernment/ and can be provided on request.
India is one of the Scottish Government's priority countries as outlined in its India Plan.
The Queen's Baton Relay is a well-loved tradition of the Commonwealth Games which seeks to unite the two billion citizens of the Commonwealth in a celebration of sport, diversity and peace.
Glasgow 2014's Queen's Baton Relay will visit all 71 nation and territories of the Commonwealth over 288 days. From India to Singapore; Australia to Rwanda and Barbados to the Bahamas, the baton will move across a record 190,000km. This will be the first baton ever to visit Rwanda.
The baton itself is a beautiful hand-crafted creation made of titanium, wood and granite, and will be carried by thousands of batonbearers on its epic journey, all chosen or nominated by their own nation to participate.
It will carry, innovatively display and illuminate a personal message from Her Majesty The Queen calling the athletes of the Commonwealth to Glasgow for the start of the Games.
The baton will leave Glasgow for India on October 10 following a special ceremony on October 9 at Buckingham Palace, where the Queen will place her message to the Commonwealth inside and launch the baton on its way.
The first Queen's Baton Relay was staged for the 1958 Commonwealth Games in Cardiff.
The baton will return to Scotland on June 14 and will spend 40 days visiting communities before the opening ceremony.
Scotland's Saltire Scholarships (SSS) is a substantial programme of scholarships, offered on a matched funding basis between the Scottish Government and Scottish Higher Education Institutions. These are designed to link to the priority sectors of creative industries, life sciences, technology, financial services and renewable and clean energy. The scheme offers up to 200 awards, each worth £2000, to international students across the Scottish Government's key priority countries – China, India, US and Canada. The scheme contributes towards the tuition fees, for any one year of full-time study, on an Undergraduate, Masters or PhD at any of Scotland's higher education institutions. 50 scholarships are awarded specifically to Indian students
In 2011-12, There were 2,970 Indian students studying in Scottish Higher Education Institutions and Colleges
For more detail of the Scottish Government's support for South Asia through the International Development Fund, visit: http://www.scotland.gov.uk/Topics/International/int-dev/Maps/SouthAsia