13/01/14 00:01
The big cheese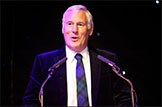 Paul Grant to lead Scottish Dairy Growth Board.
The man chosen to oversee the transformation of Scotland's dairy industry has been announced today by Rural Affairs Secretary Richard Lochhead.
Entrepreneur Paul Grant, chairman of the internationally successful jam and marmalade manufacturer Mackays, will chair the Scottish Dairy Growth Board.
Mr Grant will now begin to formulate the make-up of the group which was one of the recommendations in the 'Ambition 2025' review into Scotland's dairy sector.
Mr Lochhead said:
"I'm delighted to appoint Paul Grant to oversee the implementation of this ambitious plan that I believe will lay the pathway for Scotland's dairy sector to become a truly global player.
"Paul has successfully transformed Mackays into a worldwide brand exporting products to 50 countries across the globe, and this wealth of experience and leadership will be pivotal as we seek to grow the dairy sector and make the most of any opportunities now opening up for our high quality dairy products.
"New markets are constantly opening and emerging, and he will couple Scotland's enviable food and drink provenance with the expertise of our dairy farmers and processors to capitalise on the global demand for premium products. I'm confident that under Paul's stewardship, the sector will move forward at pace and significantly grow its output and profitability."
Paul Grant said:
"I am thrilled to be taking on this role. There is very clearly huge potential for Scotland's dairy sector to grow and unlock new market opportunities over the coming years.
"The wealth of expertise within the industry will be critical to forging a future for the sector and I look forward to working with all the key players in the supply chain to turn "Ambition 2025" into reality.
"I've spent my time at Mackays focussing on brand-building and internationalisation. The opportunity of taking that experience into a sector with such potential is extremely exciting."
Scotland Food & Drink Chief Executive James Withers, who carried out the review, said:
"The broad welcome for the dairy strategy has been really encouraging. I sense there is a collective desire across the supply chain to see our dairy industry move into a new phase.
"As Scotland's national identify around food and drink strengthens day by day, the opportunities for our fantastic dairy products to take advantage continues to grow.
"I've seen the extraordinary work Paul has done in his own business at Mackays. His entrepreneurial flair, to build markets and brands at home and overseas, is exactly the expertise and outside thinking that can serve dairy farmers and processors so well."
Notes to editors
More information on the Scottish Dairy Review: http://www.scotland.gov.uk/Publications/2013/09/9826
Paul Grant bought Arbroath-based Mackays from United Biscuits in 1995 when turnover was £250,000 and exports were zero. Since then business has risen sharply with the firm filling around 19 million jars in 2013, achieving a turnover of £16.8 million. Mackays employs 140 staff and exports to over 50 countries worldwide. Paul was awarded an MBE in 2003 for his services to the food and drink industry. He was the 2012 Ambassador of the Year for Angus and Mackays was awarded the Queen's Award for International Trade in 2004 and 2012. Paul also won the inaugural Outstanding Contribution in Food & Drink award at 2013's Scotland Food & Drink Excellence Awards.
Scotland Food & Drink is the industry-led, commercially focused membership organisation which aims to grow the value of the country's food and drink sector, make it more profitable and deliver greater global success in a fiercely competitive market. Its mission is to grow the industry to a value of £16.5 billion by 2017 and its vision is to build Scotland's international reputation as a 'Land of Food and Drink'. www.scotlandfoodanddrink.org