25/09/14 15:50
Veterans welcomed to Ryder Cup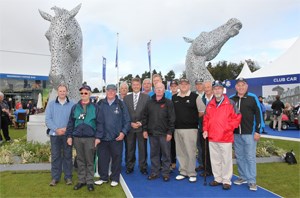 Veterans' Day at golf's finest event.
More than 300 veterans were invited to attend the Ryder Cup today, which has been informally nominated Veterans Day.

Minister for Transport and Veterans Keith Brown has also welcomed eight veterans to enjoy lunch at the Aviemore Pavilion at Gleneagles 18th green recognising their years of service

Mr Brown said:

"Our veterans deserve special recognition for all that they have done for the country at home and abroad. What better way to do that than by sharing the excitement of one of the major global events of 2014, giving them the opportunity to see some of the very best golfers in the world at close quarters.

"These tickets have been given as a big 'thank you' to all those who make Scotland a brilliant place to live – so not only our veterans who have served their country but our devoted volunteers who deliver our good causes and our sporting champions from the recent Commonwealth Games."

The Ryder Cup is a global event, reaching more than 180 countries and half a billion homes on each day of the competition. Demand for tickets is at record levels and a quarter of a million spectators, over a third of whom will be from Scotland, will create a unique atmosphere never before seen at Gleneagles.

As well as being a fantastic sporting spectacle, the Ryder Cup is also a unique opportunity to promote Scotland on the global stage.