20/12/13 10:00
Views sought on fishing controls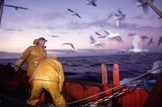 Consultation launched on licensing arrangements.
Streamlining and simplifying licensing arrangements for fishing vessels in Scotland are two of the issues being looked at in a new consultation.
It complements the recent commitment, through Marine Scotland's 'Aid to Adapt Action Plan', to reduce costs and give greater flexibility to licence holders by making changes to the licensing system.
The proposals within the consultation have been designed to offer greater flexibility, maintain proper controls that are light touch, effective and business-friendly and support the needs and aspirations of a sustainable industry and associated marine environment.
The proposals cover a wide range of fishing vessel licensing arrangements, including:
the current licensing structure
licensing incentives to support and promote a new entrants scheme to the Scottish fishing industry
the consideration of the introduction of new licensing rules for razor fishing with tougher and greater enforceable conditions in order to address reported illegal activity of electro-fishing
Fisheries Secretary Richard Lochhead said:
"This important review will bring greater flexibility and positive benefits to what is a key industry to Scotland.
"The consultation demonstrates the close working relationship between industry representatives and Marine Scotland, working in partnership to make recommendations to provide simpler, streamlined and less onerous licensing arrangements within Scotland.
"The proposals have been designed to allow Marine Scotland to tackle issues of today, including, for example: the consideration of more robust and enforceable licence conditions which will help to address the reports of the illegal activity of electro-fishing for razors.
"Other proposals are more forward thinking and look at the effect of the Landing Obligation and how that will impact on licensing and whether there is support for licensing incentives for a wider New Entrants Scheme.''
Notes to editors
Consultation on the Recommendations of the Scottish Licensing Review Working Group (SLRWG): http://www.scotland.gov.uk/Publications/2013/12/1295
The SLRWG is a joint industry / Marine Scotland group whose remit was to review the current fishing vessel licensing arrangements within Scotland.