17/03/15 08:45
Widening access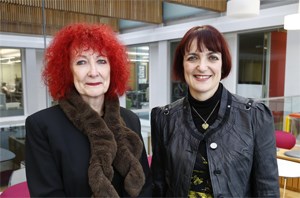 Dame Ruth Silver to chair Widening Access Commission.
A key figure in UK education is to lead work to ensure more students from disadvantaged backgrounds in Scotland can succeed at university.
Lanarkshire-born Dame Ruth Silver has chaired the UK Learning and Skills Improvement Service (LSIS), served as an adviser the Education Select Committee on further education in the House of Commons and co-chaired the UK Skills Commission.
She has now been appointed to chair the Commission on Widening Access. The Commission was announced by the First Minister in November as part of the Scottish Government's Programme for Government, guaranteeing a move towards 20 per cent of university entrants coming from the most disadvantaged 20 per cent of society.
At a visit to the University of Edinburgh, where she had the opportunity to hear from staff and students engaged in the university's varying widening participation schemes, Cabinet Secretary for Education and Lifelong Learning Angela Constance said:
"As outlined by the First Minister in our Programme for Government, a child born today in one of our most deprived communities should have no lesser chance of entering higher education than a child born in one of our least deprived. We want every child – whatever their background – to have an equal chance of attending university.
"The Scottish Government is committed to education being based on the ability to learn, not the ability to pay and while we have come far, with record levels of students from less well-off areas entering Higher Education, we realise there is more to do.
"I am delighted to have Dame Ruth Silver, who has frequently been on record over the need to widen access to education, on board to lead this work. Further members of the Widening Access Commission will announced shortly and I look forward to seeing the results of their work over the coming year.
Dame Ruth Silver added:
"I welcome the opportunity to lead such an important piece of work. The Commission begins and benefits from a great ambition with its clarity of task, timescale and intended outcome. More importantly Scotland has a solid and creative foundation in widening access and knows how can be done. This next phase, supported by the Commission, is to find ways to go deeper and ensure all members of our community have every opportunity to succeed."
Notes to editors
Dame Silver was born in Lanarkshire and has 30 years of service in the FE Sector. She was Principal of Lewisham College for 17 years until 2009, chair of the Working Men's College governing board from 2002 to 2005, and, in 2010, became the chair of The Learning and Skills Improvement Service (LSIS), a public body for further education and skills development. Dame Silver has been an adviser to the Education Select Committee in the House of Commons and a member of the Skills Commission. She has also served as a board member for the Higher Education Academy and the Council for Industry and Higher Education.
In 2006 Ruth Silver was created a Dame Commander of the Order of the British Empire in recognition for her services to Further Education.