27/12/13 12:49
Wintry weather update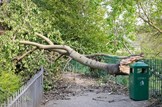 Scottish Government Resilience committee monitors impact of storm.
The latest winter storm to affect parts of Scotland is actively being monitored by the Scottish Government's Resilience committee (SGoRR).
Following a SGoRR meeting this morning, Scottish Ministers have been briefed that this storm is not affecting Scotland as severely as other parts of the UK. It is, however, having some impact including:
A Yellow (be aware) warning for wind and rain is in force for much of Scotland, including Dumfries and Galloway, the Scottish Borders, the Lothians, Fife and parts of Tayside. The Met Office is expecting widespread gusts of 50-60 miles per hour in these areas, with gusts of up to 70 miles per hour in the most exposed parts.
Rain falling on saturated ground is expected to lead to flooding in low-lying agricultural areas but the risk of community flooding is low. SEPA has reported an improving situation regarding coastal flood risks. Due to the ongoing rainfall, rivers are expected to rise further, peaking late Friday afternoon and evening. As of 12 noon, there were 6 general flood alerts and 13 specific flood warnings in force, the majority for low-lying agricultural land in the Tayside area. SEPA will monitor the situation closely throughout today and tonight, and will inform emergency responders if communities are deemed to be at risk.
Approximately 5,000 homes across Scotland are without power, including 3,800 Scottish Power customers in Dumfries and Galloway and Ayrshire, and 1,221 Scottish and Southern Energy customers in the north, including 590 in Angus, 416 on Orkney, 144 in Inverness, 56 in Aberdeenshire, and 15 in Oban. Engineers are working to re-connect these homes and all customers are expected to be back on supply today, although the high winds could cause further disruption.
Disruption to rail services due to this morning's poor weather conditions, including services between Aberdeen and Dundee due to a loss of signalling at Aberdeen and Largs & Ardrossan services due to damage to overhead lines at Saltcoats as a consequence of poor weather and high tide. Services are returning to normal on the Far North and Kyle lines following a landslip at Bruichnain. Speed restrictions will also affect cross-border East Coast services due mainly to poor weather down south.
On ferries, there has been some disruption on Clyde and Hebrides routes due to high winds. Services may be liable to disruptions or cancellations at short notice so travellers should check with their operators.
The situation across the road network was generally good, with very few weather-related disruptions to note. General advice to drivers is travel with caution and plan ahead.
Transport Minister Keith Brown said:
"In Scotland, the South West is being worst affected by today's heavy rain and strong winds, although conditions are not as severe as the storms that affected the North and North West earlier this week, and these windy and wet conditions are not unusual for this time of year.
"However, we must not be complacent which is why the Scottish Government's Resilience committee is closely monitoring the situation, working closely with all our partners to share information and ensure resources are targeted where they are needed.
"The risk of flooding appears to be subsiding, although the stormy conditions continue to disrupt the rail network and power supplies. Engineers are working to resolve these issues as soon as possible.
"Up-to-date and reliable information is easily accessible from a number of different platforms - social media, websites, helplines - so everyone can have the very latest news when they need it, and I would encourage everyone to plan ahead and follow advice as necessary."
SGoRR will continue to actively monitor the situation and will receive regular updates from partners if required.
Notes to editors
The Scottish Government's Ready for Winter website provides the public with a range of advice and information on preparing for winter weather. Further information is available at www.readyscotland.org
CalMac travellers should check the website: www.calmac.co.uk for the latest information. The passenger service between Gourock and Dunoon operated by CalMac's sister company, Argyll Ferries, may also be affected. The latest information on that service can be found at www.argyllferries.co.uk.
For real time journey information visit www.trafficscotland.org, follow @trafficscotland on Twitter or call 0800 028 14 14.

The full Alerts, including the Chief Forecaster's Assessment and a map showing the areas included in the Alerts, are available at http://www.metoffice.gov.uk/public/weather/warnings/

Rail, ferries and air users should check with individual service operators' websites.

For more advice and guidance: www.sepa.org.uk/flooding or via Floodline 0845 9881188 At 10am every day SEPA issues to registered media a summary of Flood Warnings & Alerts currently in force. When there are Warnings in force this gets issued more frequently, usually every four hours. If your organisation has not signed up for this free bulletin and you would like it, please request it by emailing flooding@sepa.org.uk