20/06/14 15:45
Young people have Scotland's Future in their hands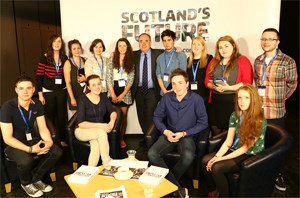 FM publishes youth version of independence guide
First Minister Alex Salmond has published a youth version of Scotland's Future at a event in Glasgow today.
The young person's guide to Scottish independence was made available as the Scottish Government hosted the first ever 'Youth Cabinet' event – where over 100 young people from across Scotland will get the chance to quiz Scottish Ministers directly on their independence plans.
The first of its kind event at Glasgow's SECC is currently underway with 100+ young people quizzing Ministers who will be seated on portfolio themed tables. After a rapid-fire 15 minutes a 'gong' will sound and the young people move to the next Minister. The event is targeted at those aged 16-21 who would not otherwise get the opportunity to attend something of this nature or for whom this would be a first time experience. All aspects of the event, including hosting duties and the filming and live streaming of the session involve young people.
Speaking at the youth cabinet First Minister Alex Salmond said:
"I am proud that for the first time ever we have ensured 16 and 17 year-olds will get the vote.
"The case for independence rests on the talent and ability of our people. It will be better for all our futures if decisions about Scotland are taken by the people who care most about Scotland – the people who live and work here.
"No-one else will do a better job and no-one else has a bigger stake in our success and that fundamental truth applies to young people more than anyone else. In an independent Scotland your future – Scotland's future – will be in the hands of our young people.
"Today we are also publishing a version of Scotland's Future which focusses, in particular, on issues of interest to young people. It's a plan to demonstrate how, working together, we can build a better, more prosperous and fairer country.
"For young people the prospect of an independent Scotland really is the opportunity of a lifetime and my message to them is let's ensure Scotland's future is in Scotland's hands."
Notes to editors