05/02/14 11:30
1500 jobs for life sciences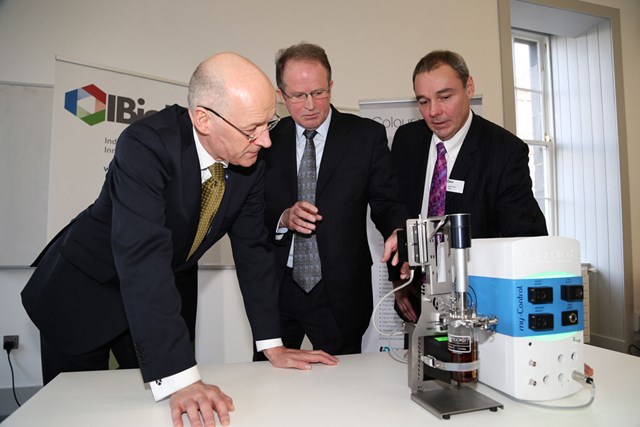 New industrial biotechnology innovation centre launches.
A new innovation centre for industrial biotechnology (IB) is forecast to increase IB related turnover to up to £3 billion by 2030, create 1500 jobs within five years and put Scotland at the forefront of a global transformation.

Funded by the Scottish Funding Council and supported by Scottish Enterprise and Highlands & Islands Enterprise, the new Industrial Biotechnology Innovation Centre (IBioIC) – hosted at the University of Strathclyde – is a key element of the National Plan for Industrial Biotechnology – Towards a Greener, Cleaner 2025.
It brings together academic and private sector partners to play a leading role in the potential £360 billion global industrial biotechnology market.
Industrial biotechnology is the use of biological substances, systems and processes to produce intermediate and final products such as pharmaceuticals, chemicals, materials and energy – both cost-effectively and with minimal adverse environmental impact.
Finance Secretary, John Swinney, joined the chairman of IBioIC, Ian Shott CBE, together with partners and stakeholders at an event today in the Edinburgh Centre for Carbon Innovation to formally launch the new Industrial Biotechnology Innovation Centre, IBioIC.
Mr Swinney said: "The creation of 1,500 new jobs is a fantastic boost for Scotland's expanding biotechnology industry. Scotland's chemical industry is the country's second top exporter – equating to £3.7 billion per year – while Scotland's life sciences sector is one of the largest and fastest-growing in Europe.
"The launch of IBioIC is predicted to add £130 million to the Scottish economy and will allow Scotland to be at the forefront of global transformational change from a largely fossil fuel-based to an industrial biotechnology-inclusive economy.
"Later today I will be urging Parliament to back my budget for 2014-15, which supports economic recovery while creating jobs and new opportunities, including through the transition to a low carbon economy. In line with today's announcement, the most recent employment statistics show that Scotland continues to be the best performing of the four nations in the UK in terms of unemployment and employment."
Ian Shott CBE, Chairman of IBioIC, said: "IBioIC is a collaboration of businesses and Higher Education Institutions with the ambition to be truly distinctive, world-leading and responsive to the market and technology needs of industry. Furthermore, the networks that IBioIC members bring to the partnership will be consolidated and extended to enhance connectivity and collaboration with industrial biotechnology centres worldwide.
"We aim to surpass the targets set by Scotland's National Plan for Industrial Biotechnology by raising the estimated turnover of industrial biotechnology-related products from around £190 million currently, to between £2 billion and £3 billion by 2030."
The Scottish Funding Council has contributed an initial £10 million towards the innovation centre, which is set to leverage over £45 million of investments within its first five years from various sources including industrial membership contributions and through external funding agencies such as RCUK, Horizon 2020 and TSB.
Laurence Howells, Interim Chief Executive of the Scottish Funding Council said: "Industrial Biotechnology has wide-reaching benefits for us all, whether it is turning waste into energy and products or improving the way we manufacture food, drink, vaccines and antibiotics. I am in no doubt of the huge contribution IBioIC will make to economic growth and job creation in Scotland, whilst reducing our impact on the environment. I'm pleased our £10 million will be used to support the essential backbone for IBioIC's ambitious mission; its facilities, equipment, and staff".
An independent economic assessment forecasts that IBioIC will generate around £130 million of GVA and 1,500 jobs within five years, both directly through the innovation centre and indirectly through companies involved in growing the industrial biotechnology market.
Scottish Enterprise and Highlands and Islands Enterprise (HIE), the Scottish Funding Council's partners in the Innovation Centre programme, work intensively with companies both at home and overseas through their international arm, Scottish Development International (SDI), to encourage more companies to invest in Industrial Biotechnology. Scottish Enterprise is also leading the delivery of the National Plan for Industrial Biotechnology in partnership with HIE.
Head of chemical sciences at Scottish Enterprise, Caroline Strain, said: "There are currently around 43 businesses actively involved in IB projects in Scotland, including world leading companies such as GSK, Ingenza and INEOS.
"Working collaboratively with our private and public sector partners, we aim to support these companies to build on their existing expertise as well as encourage more businesses to consider the impact and benefits sustainable high-value manufacturing and industrial biotechnology activities can contribute to their growth journey.
"IBioIC will play a key role in this process, supporting greater innovation and collaboration between industry and academia, and help to support our ambition of Scotland becoming an international hub for IB excellence."
Chief executive of HIE, Alex Paterson, added: "Industrial Biotechnology is important to a number of sectors across the Highlands and Islands such as renewable energy, natural products and forestry. I welcome the creation of this new Innovation Centre and the contribution it can make to the region's future growth."
IBioIC will involve all 13 Scottish Higher Education Institutions that are active in biotechnology research and will be co-ordinated by the University of Strathclyde.
Speaking on behalf of IBioIC's academic partners, Principal of the University of Strathclyde Professor Sir Jim McDonald said: "As a single, national facility, IBioIC will enable Scotland – with its established industry base, world-class academic expertise and natural resources – to accelerate our globally-distinctive positioning and capability in the industrial biotechnology market.
"IBioIC, hosted here at Strathclyde, will ensure that Scotland capitalises on its resources and the synergies of its industrial and academic communities to gain economic advantage in this endeavour. The coherence and partnership within Scotland's universities have been a key foundation for the creation of this exciting new venture. The industrial leadership that has been attracted to this research and innovation investment is enormously encouraging and demonstrates the value of collaboration and shared vision between government, industry and academia."
Notes to editors
About IBioIC
The Industrial Biotechnology Innovation Centre, IBioIC is a national facility which brings together academia and industry to accelerate and de-risk the development and commercialisation of economically viable and fully sustainable solutions for high-value manufacturing in chemistry-using and life science sectors.
Academic partners include the Universities of Strathclyde, Aberdeen, Abertay, Dundee, Edinburgh, Glasgow, Heriot Watt, Highlands and Islands, Scottish Association for Marine Science, James Hutton Institute, Napier, Robert Gordon, St Andrews, and West of Scotland, while founding industrial partners include GSK, Ineos and Ingenza.
About Industrial Biotechnology
Industrial biotechnology is defined as the use of biological resources for producing and processing materials into desired intermediate and final products including energy and high value chemicals. Biological resources can include existing and engineered organisms used equally as materials and processing agents.
The global IB market is estimated to be worth between £150 billion to £360 billion by 2025. Similar estimates for the UK IB market range from £4 billion to £12 billion.
Scotland's National Plan for Industrial Biotechnology, launched in November 2013, is aligned to the UK strategy "IB 2025 – Maximising UK Opportunities from Industrial Biotechnology in a Low Carbon Economy" and the EU strategy (Innovating for Sustainable Growth: A Bioeconomy for Europe", European Commission, Feb 2012).
About the Scottish Funding Council (SFC)
SFC is responsible for allocating public funds to colleges and universities in support of Scottish Government priorities. SFC's funding contributes towards the costs of learning and teaching, skills development, research, innovation and other costs such as staff, buildings and equipment in Scotland's 19 universities and 26 colleges. SFC, in partnership with Scottish Enterprise and Highlands and Islands Enterprise, launched the Innovation Centre programme in 2012, with the aim of establishing collaborations among universities, businesses and others to enhance innovation in and across Scotland's key economic sectors. Innovation Centres will provide direct industry-academia links, foster entrepreneurship and serve as a focus for skills training at all levels. To date, SFC has funded four Innovation Centres with more expected to be approved in early 2014. SFC has committed, in principle, £110 million for the Innovation Centre programme up to 2018. Additional funding for capital equipment and post graduate places will also be made available to Innovation Centres subject to demand.
About Scottish Enterprise
Scottish Enterprise is Scotland's main economic development agency and aims to deliver a significant, lasting effect on the Scottish economy. Our role is to help identify and exploit the best opportunities for economic growth. We support ambitious Scottish companies to compete within the global marketplace and help build Scotland's globally competitive sectors. We also work with a range of partners in the public and private sectors to attract new investment to Scotland and to help create a world-class business environment.

Follow us on Twitter at http://twitter.com/scotent
Follow us on Facebook at http://www.facebook.com/scottishenterprise
About Highlands and Islands Enterprise
Highlands and Islands Enterprise (HIE) is an economic and community development agency delivering the Scottish Government's economic strategy across a region which covers more than half of Scotland. With around 250 staff, HIE supports hundreds of client businesses and social enterprises; strengthens communities, particularly in fragile areas; develops key sectors, and invests in infrastructure to create a more competitive and low carbon region.

Our priority sectors for growth include Energy, Life Sciences, Food and Drink, Creative Industries, Tourism, Financial and Business Services and Universities.

You can visit our website at http://www.hie.co.uk
Or follow us on social media: www.facebook.com/HighlandsandIslandsEnterprise www.twitter.com/HIEScotland
About the University of Strathclyde
The University of Strathclyde is a leading international technological university which is recognised for strong research links with business and industry, commitment to enterprise and skills development, and knowledge sharing with the private and public sectors. The University was named UK University of the Year in the 2012 Times Higher Education Awards.
About the Edinburgh Centre for Carbon Innovation (ECCI)
ECCI is a hub for the knowledge, innovation and skills required to create a low carbon economy. Located in Edinburgh, Scotland's political centre and capital city, and building upon the best ideas from around the world, the ECCI provides the place and space for low carbon leaders and networks from business, finance and the public sector to work together to deliver a low carbon future.
ECCI's home, formerly Edinburgh's historic Old High School, is a state of the art, energy efficient hub for knowledge, innovation and skills. The unique building is the first refurbished building in the UK to achieve the industry sustainability 'BREEAM Outstanding' award at design stage. The Centre will have to wait a further six months for the construction phase assessment.