20/06/14 10:40
Building on ancient links with Norway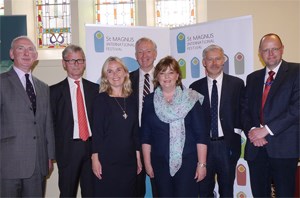 Cabinet Secretary in Orkney to celebrate bicentenary of Norwegian constitution.
There is a firm commitment at the highest levels of the Scottish Government to deepening and widening our relationship with Norway and the Nordic nations, Culture and External Affairs Secretary Fiona Hyslop said today.
In a significant year for the constitutional history of both nations, Scotland and Norway will come together this weekend to celebrate and strengthen their ancient bonds at the 2014 St Magnus International Festival in Orkney.
The Cabinet Secretary will join a delegation of Norwegian diplomats in Kirkwall this evening to celebrate the 200th anniversary of the Norwegian Constitution at a concert headlined by some of the country's most acclaimed classical musicians – the five-time Grammy Award-nominated Trondheim Soloists.
Speaking ahead of tonight's event, Ms Hyslop said:
"2014 is a hugely important year for Scotland and Norway.

"In Scotland, we are poised to make a historic decision that will define our nation's constitutional future, giving the people of Scotland an opportunity to become an independent country with a written constitution as a foundation upon which we can build a better, wealthier and fairer Scotland.

"Meanwhile our Norwegian neighbours are celebrating the bicentenary of the adoption of Norway's own constitution.

"There are many cultural and ancient links between our two nations and these are most obvious here in the Northern Isles, which are strewn with Norse heritage. Through our renowned festivals like the St Magnus International Festival in Orkney and Shetland's Up Helly Aa, Scotland has demonstrated a commitment to cultivating cultural links with the Nordic countries and I am pleased to be in Orkney this weekend to see that continue.

"As outlined in the Nordic-Baltic Policy Statement I published earlier this year, the Scottish Government is committed at the highest levels to deepening and widening its relationship with the Nordic countries – with whom we share many strengths. For example maritime affairs, energy, and social affairs are all areas where we all receive international recognition.
"We also face many common challenges and opportunities. By collaborating and learning from each other, we can face our challenges and make the most of our opportunities together."



Notes to editors
Fiona Hyslop launched the Scottish Government's Nordic-Baltic policy statement during a visit to Finland earlier this year. For more information visit: http://news.scotland.gov.uk/News/Launch-of-Nordic-Baltic-Statement-a1d.aspx

Tonight's concert in Kirkwall – From the North Lands - will specifically highlight historic connections between Nidaros Cathedral in Trondheim and St Magnus Cathedral in Kirkwall. The event will also feature the official opening of an exhibition of works by eminent Norwegian painter Håkon Gullvåg, whose paintings depict biblical events and were designed to be placed around Nidaros Cathedral in Trondheim. This will be the second time the exhibition has been seen outside Norway, having previously travelled only to the Lutheran Church in Jerusalem.

On June 10 and 11 2014 the Scottish Government sponsored the Conference "Arctic Connections; Regional Cooperation in the North of Europe" which was delivered by Strathclyde University's European Policies Research Centre in Glasgow. The conference was opened by the Cabinet Secretary for Culture and External Affairs, Fiona Hyslop, and brought together over 70 experts including representatives from the Scottish, Finnish and Norwegian Governments and the European Commission. Delegates discussed the importance of international collaboration in tackling the challenges and opportunities in the arctic region and the scope for developing a cooperation mechanism between countries and regions to promote information sharing, knowledge exchange and project cooperation, particularly around European funding programmes and other regional initiatives. Further work will be undertaken in the coming months to develop these ideas further.