10/10/13 10:17
Cereal harvest cheer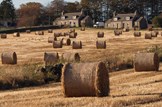 Experts estimate improvements on last year.
Commenting on the latest estimates of the Scottish cereal and oilseed rape harvest, Rural Affairs Secretary Richard Lochhead said:

"This year's cereal harvest estimates must be welcome news indeed for Scottish farmers after the double whammy of last year's washout summer and the extreme winter we experienced earlier this year.
"After twelve months of meteorological misery, this summer was sensational and provided ideal conditions for growing crops. Although Scottish cereals are still being harvested and these figures are provisional estimates, today's expert predictions of a partial recovery after last year's dreadful drop in production is good news for Scottish agriculture.
"I also welcome the increase in average yields in the last 10 years compared to the previous decade, which shows a long term improvement as our farmers reap the rewards of the new technologies and production methods we now have at our disposal."