31/12/13 00:01
Dram good figures!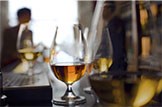 Whisky exports soar as the drink plays its part in New Year celebrations.
Scotland's national drink will be raised across the world as people bring in the New Year – and new figures show exports have soared over the last decade.
New analysis from the Scottish Government, based on the latest HMRC figures, shows the value of Scotch Whisky exports from the UK has increased by 87 per cent over the last ten years from £2.3 billion in 2002 to £4.3 billion in 2012 - the latest figures available.
The volume of exports has also experienced a significant rise with 32 per cent more Scotch Whisky going overseas over the same period.
Scotland's Food and Drink Minister Richard Lochhead said:
"Scotch Whisky is one of our most iconic products and these figures demonstrate the huge global demand for whisky. I've made growing the food and drink industry one of my main priorities since coming to office and I'm particularly pleased that these results show a 51 per cent rise in the value of exports since 2007.
"We export to 173 countries, from the United States – which has more than doubled its spend on our national drink – Brazil and China, to Bermuda, Papua New Guinea and the Vatican City. This just exemplifies how important Scotch Whisky is not only to the Scottish economy, but to our deserved reputation as a Land of Food and Drink.
"It's estimated that up to 50 million people world-wide can claim Scottish ancestry, and many more have a connection with Scotland through visiting, working or studying in Scotland. I have no doubt that some of them will be raising a glass of Scotland's finest as they bid a fond farewell to 2013 and look forward to the opportunities that 2014 can bring, especially as Scotland welcomes the world through Homecoming Scotland 2014, the Commonwealth Games and The Ryder Cup."
Notes to editors
Table 1: Top 5 Destination Countries for Overseas Exports of Scotch Whisky from the UK, 2012 and 2002, Ranked by Highest £ Value
2012 (£ Value)

2002 (£'s Value)

United States

757,985,401

United States

302,475,183

France

433,909,096

Spain

256,013,828

Singapore

339,160,652

France

236,013,754

Spain

195,323,368

South Korea

195,835,170

Germany

168,792,694

Japan

115,350,564
(Source: HMRC Overseas Trade Statistics, data extracted 12th December 2013)

Table 2: Top 5 Destination Countries for Overseas Exports of Scotch Whisky from the UK, 2012 and 2002, Ranked by Highest Net Mass (kg)
2012, Net Mass - kg

2002, Net Mass - kg

France

103,973,975

France

87,255,409

United States

77,197,852

Spain

72,357,087

Spain

43,192,862

United States

61,416,989

Singapore

41,936,085

South Korea

28,373,197

Germany

34,858,990

Germany

27,300,053