05/12/13 13:19
Farm payment transfer proposal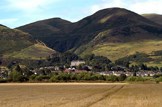 Crucial agriculture support maintained & more funding for environment schemes.
Vital rural development support for farmers, including Less Favoured Area support (LFASS), will be protected and funding for agri-environment schemes increased under proposals for the future of Scotland's farming budgets.
Plans to limit the transfer to 9.5 per cent from the budget for payments made directly to farmers (Pillar One) to the budget for rural development (Pillar Two) have been outlined by Rural Affairs Secretary Richard Lochhead. The transfer – known as 'flexibility – is permitted under European Common Agricultural Policy (CAP) regulations and would apply from 2015 - 2020.
In the face of extremely difficult spending decisions caused by the poor budget negotiated and allocated by the UK Government, the Scottish Government's proposals for the rural development budget – which are subject to consultation - would focus on increasing funding for agri-environment schemes while also prioritising Less Favoured Area funding for hill farmers (LFASS) and support for forestry, crofting, new entrants to farming, food and drink, and rural communities.
Farmers, environmental organisations and rural communities are being asked for their views on the proposed transfer rate by December 16, 2013 so that the Scottish Government can meet the December deadline for notifying Europe of its decision.
Cabinet Secretary for Rural Affairs and the Environment Richard Lochhead said:
"Scotland is a food producing nation and direct payments to farmers and crofters are essential for ensuring the survival and success of Scottish agriculture.
"Our rural development programme – which provides crucial support for environmental schemes, hill farmers, and wider rural communities - is also massively important.
"European rules allow up to 15 per cent to be transferred between these budgets. I have said all along that I will not transfer money away from rural development as Scotland has the lowest payment rates in Europe – just one sixth of the EU average. I also want to protect food production in this country and direct payments to Scottish farmers and crofters have already been cut twice, once at European level and again by the UK Government, so I have to think carefully about the level of transfer.
"Ideally, I would prefer to be allocating additional funds rather than balancing cuts in what are already the poorest CAP budgets of any EU country.
"However, due to the atrocious negotiating and budget decisions taken by the UK Government, the reality is that unless a transfer is made our rural development budget will not be able to meet all the demands and obligations placed upon it. Indeed, DEFRA Minister Owen Paterson argued for a 'substantial reduction' and phasing out of Pillar One payments but thankfully he did not succeed and we secured much needed continued support for Scottish agriculture.
"That is why in this programme I am minded to limit the transfer from Pillar One to Pillar Two to 9.5 per cent – a rate which I believe strikes the best possible balance between providing a rural development budget that allows us to address our obligations and supporting priority areas of the agricultural sector. This will deliver a rural development budget of over £1.3 billion over the next seven years, a level of annual funding similar to that of the final years of the current programme.
"I am also minded to allocate more of Scotland's rural development budget to agri-environment schemes to help protect our natural environment especially our biodiversity and water quality.
"While subject to consultation, my proposals would see funding for agri-environment schemes increase by more than £10 million per year to over £350 million over the seven year CAP period. I am also considering how we can ensure the next CAP includes measures to ensure greener farming practices.
"Crucially, I intend to maintain essential support of £65.5 million per year for LFASS - a total of £459 million support through Pillar Two for our farmers and crofters on our hills, uplands and islands.
"If Scotland had been independent during the most recent EU farming talks, we would have qualified for an additional €1 billion in direct payments and had the opportunity to join 16 other EU countries in negotiating hundreds of millions of euros more in rural development funding.
"While other countries in Europe are deciding how to spend their additional funds, I am in the extremely difficult position of having to decide what to do with a much smaller budget. As if this was not enough, I have am having to deal with the fallout of DEFRA's recent decision not to allocate to Scotland the €223 million convergence uplift that rightly belongs to Scotland's farmers.
"The Scottish Government will consult on our detailed proposals for direct payments and rural development later this month, but in the meantime I am keen to hear urgent views from industry, environmental organisations and rural communities on our proposed 9.5 per cent flexibility rate by December 16, 2013."
Notes to editors
More information on the Scottish Government's flexibility proposals and how to submit feedback can be found on the Scottish Government website.
A transfer of 9.5 per cent of Scotland's Pillar One ceiling would mean transferring around £46 million per annum into Pillar Two on average (using a conversion rate from € to £ of 1.2). A total budget of £1.3 billion represents annual funding similar to the level of annual spend in the final years of the 2007-13 programme.
In addition to increasing funding for agri-environment schemes, the Scottish Government will make available funding to provide advice and support to farmers to help them develop and implement more effective projects that benefit the climate and environment. Tied to this will be a more targeted approach to agri-environment investments and a focus on co-operative projects which can secure large-scale benefits for the environment.
At €12 per hectare, Scotland has the lowest rural development payment rates in Europe. In comparison:
• Ireland has secured a rural development budget four and a half times the size of Scotland's with 20 per cent less utilised agricultural area than we have.
• Denmark has secured a rural development budget that is a third higher than Scotland's, with less than half our utilised agricultural area.
• Finland has secured a rural development budget five times the size of Scotland's with less than half our utilised agricultural area.