29/12/13 00:01
Final call for Waste Regulations compliance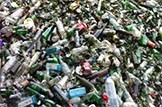 Scottish businesses urged to prepare for new rules on waste.
With just a few days to go before 2014, businesses and public sector organisations across Scotland are being reminded new Waste (Scotland) Regulations are coming into force on 1 January.
The changes mean that all designated key waste materials including paper, card, plastic, metals and glass must be separated for recycling. Additionally, all food businesses producing over 50kg of food waste per week must present it for separate collection, unless they're located in a rural area.
Those failing to comply with the new laws risk a maximum fine of £10,000.
To get ready for 1 January, 2014 the following actions are recommended for businesses:
audit your waste streams to work out where the bulk of your waste is arising
speak to your waste contractor to see if they can help you become compliant
separate your recyclables for collection
in non-rural areas, present food waste for separate collection
Ahead of the introduction of the new regulations, Environment Secretary Richard Lochhead said:
"In introducing the Waste (Scotland) Regulations this January, we're taking a significant step toward delivering our vision of a zero waste Scotland.
"Our waste can be a valuable resource – but only when it is properly managed. These important regulations will help change the way we regard our waste, and it is my belief that a positive shift in attitude will deliver environmental and financial benefits for all of us.
"We all have responsibilities when it comes to waste, not least the Scottish business community. Without their support, Scotland will not meet its zero waste ambitions. With just two days to go before the new regulations come into force, I'd encourage all businesses to get ready for the changes coming in."
Iain Gulland, Director, Zero Waste Scotland said:
"As we approach 2014 and the date the new waste regulation will come into play, it's time for businesses to ensure they are fully compliant, and in doing so realise the benefits of recycling more.
"There's real value in our waste, and it's estimated that businesses across Scotland could save up to £192 million by reducing the amount of waste sent to landfill and recycling as much waste as possible.
"For further guidance on making the necessary changes, there is a wealth of information available online via www.resourceefficientscotland.com/regulations , or pick up the phone and speak to one of our friendly advisors on 0808 808 2268."
Notes to editors
Free online support for businesses is available at www.resourceefficientscotland.com/regulations. This includes:
A rural postcode finder to help food businesses determine whether they are exempt from presenting food waste for collection if they are in a rural area (www.zerowastescotland.org.uk/ruralpostcodesearch).
A detailed Frequently Asked Questions section.
The Business Resource Centre, which offers a local search for waste management services, including recycling and reuse organisations.
A free poster creator tool, to help businesses create recycling signage and posters. www.zerowastescotland.org.uk/content/poster-creator
Businesses can also call (Freephone) 0808 808 2268 or email enquiries@resourceefficientscotland.com to speak to an advisor