20/08/14 10:07
Five farming gains of independence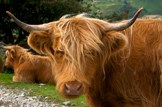 Rural Affairs Secretary sets out benefits for farmers and crofters.
The five key gains of independence for farming and crofting have been set out by Rural Affairs Secretary Richard Lochhead.
Mr Lochhead highlighted that only independence will prioritise the needs of Scottish agriculture which is worth billions of pounds to the Scottish economy and is at the heart of Scottish rural life.
The five gains for farming and crofting are:
1. The opportunity to significantly increase direct farm payments
2. The opportunity to significantly increase rural development funding
3. Direct representation in the European Union and the ability to negotiate our own priorities
4. The opportunity to use full fiscal powers to encourage farm tenancies and new entrants
5. Ensuring Scotland's agricultural levies support Scottish produce.
Mr Lochhead said:
"Farmers and crofters are at the heart of Scotland's rural communities. They put food on our tables – underpinning our booming £14 billion food and drink sector – and are the custodians of Scotland's stunning natural environment.
"Agriculture is therefore a huge priority for Scotland – and the fact this priority is not shared by Westminster has already cost rural Scotland dear.
"Had Scotland been an independent Member State in the last round of CAP talks our rural areas could have benefited from around €3.5 billion in additional European funding. We would have qualified for an extra €1 billion in direct farm funding and, had we negotiated a deal similar to Ireland's, could have secured an extra €2.5 billion in rural development funding.
"Instead, we have the worst rural budgets in Europe and there is a growing possibility that staying in the UK will deliver the worst of all worlds for Scotland's farmers.
"Westminster's planned in-out referendum could take Scotland out of the EU and out of the CAP altogether. Being out of Europe and governed by Westminster would leave Scottish farming at the mercy of UK Governments intent on scrapping direct payments which plough billions of pounds into Scottish agriculture and are a lifeline for many Scottish farmers and crofters.
"Independence is the only way to safeguard Scottish farm payments. It will take Scotland from the bottom of the EU funding leagues to a seat at Europe's top table for the next CAP negotiations.
"We will have the chance to argue directly in the interests of Scotland's farmers for the very first time and the opportunity to finally secure a fair deal on funding – rather than having to rely on other people, who have different priorities, negotiating on our behalf.
"With the full range of fiscal powers that independence brings, we can do much more to encourage farm tenancies and new entrants to farming and crofting by building a tax system that meets Scotland's needs.
"And only independence will ensure that Scotland's agriculture levies will be dedicated to supporting Scottish production."