07/10/13 00:01
Help for heating bills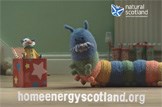 Scots encouraged to make use of £74 million home energy fund.
A new national campaign which will make sure households know what energy initiatives they are entitled to is launching today (October 7). It comes as a survey shows 75 per cent of Scots are worried about their energy bills.
Deputy First Minister, Nicola Sturgeon, launched the campaign which highlights the benefits available to Scots through the Scottish Government's Home Energy Scotland hotline [0808 808 2282] which offers free impartial energy advice and support.
The Scottish Government has a budget of £74 million this year to help Scots reduce their fuel bills and transform Scotland's housing stock into warmer, more efficient, greener homes – all part of actions to increase energy efficiency and tackle fuel poverty in 2013/14.
Deputy First Minister Nicola Sturgeon said:
"The Home Energy Scotland hotline is an invaluable source of support for householders all over the country, providing a one stop shop for the Scottish Government's home energy saving initiatives.
"Many people are losing money by not taking up initiatives, yet anyone can apply for up to £1200 towards home improvements that will make their home warmer, greener and more cost effective.
"Many people will also qualify to get energy-saving home improvements such as insulation, boilers or central heating for free. The hotline's advisers are friendly and impartial and one call is all it takes to see what you might be eligible for."
A YouGov survey recently found that three quarters of Scots are concerned about the cost of their energy bills this winter, while more than 70 per cent of Scottish bill payers said last winter's energy bills had a negative impact on their disposable income. Around 80 per cent (81 per cent) of householders also admit to being energy wasters at home.
More than 800,000 Scots have been offered energy advice or assistance on heating bills since 2009 , accessible through the Home Energy Scotland hotline.
Thousands of households across Scotland are eligible to have insulation, boilers and central heating installed for free. One call to the hotline is all it takes to find out if you qualify.
A home that isn't well insulated can lose more than 50 per cent of its heat through its roof and walls, yet just a quarter of Scots surveyed would consider getting new insulation compared to the 71 per cent that said they would consider wearing a coat or extra jumper indoors in order to keep their bills low.
The Home Energy Scotland hotline's expert advisers can inform callers which of the Scottish Government's Home Energy Efficiency Programmes they qualify for, as well as giving personalised advice on how to make homes more efficient.
Notes to editors
Figures from YouGov Plc. Total sample size was 1050 adults. Fieldwork was undertaken between 23rd-25th September 2013. The survey was carried out online. The figures have been weighted and are representative of all Scottish adults (aged 18+).