30/09/15 14:36
Islands to have say over their future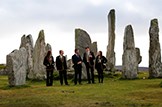 Bill consultation is first step to further devolution and protection of islands.
The Scottish Government's commitment to island communities took a step forward today as proposals that could see additional powers, stronger representation at Holyrood and the creation of a National Islands Plan, were published.
Ministers have been clear that a future Islands Bill, once passed, would be about equality and empowerment for our island communities.
The consultation will seek views on:
Island-Proofing – whether a legal duty should be placed on Ministers and relevant public bodies to 'island-proof' their functions and decisions.
Empowering Island Communities – what additional powers and functions could be passed to island councils to benefit or better protect the island communities they serve
National Islands Plan – whether a legal duty should be placed on all future Scottish Governments to prepare a 'National Islands Plan', setting out on-going commitments across all policy areas of Government to support, promote and empower our island communities
Statutory protection for the Na h-Eileanan an lar Scottish parliamentary constituency boundary
Local Government Electoral Wards – whether the Local Government Boundary Commission in Scotland should have discretion to recommend wards with less than three councillors so that populated islands are not placed in an electoral ward that contains a significant proportion of mainland population
Since the launch of the 'Our Islands Our Future' campaign in 2013, a positive working partnership has been formed between the Scottish Government and our island councils to address some of the challenges island communities face. The establishment of the Island Areas Ministerial Working Group, and publication of 'Empowering Scotland's Island Communities' prospectus in June 2014, set out the most comprehensive package ever put forward by any Government for empowering Scotland's islands along with the principle of local decision making.

Islands Minister Derek Mackay visited Stornoway today to discuss the aspirations of the bill with Higher Modern Studies pupils from The Nicolson Institute before visiting the iconic island attraction of the Standing Stones of Callanish.
Speaking from the Western Isles, Mr Mackay said:
"This is the start of a conversation with our island communities, councils and wider stakeholders about what a future bill may look like – and who better to inform these decisions than the very people who live, work and study there.
"Scotland's islands have proud traditions, with rich and vibrant cultures. They contribute so much to the fabric of Scotland as a nation. From Harris Tweed in the Western Isles to the famous Whisky distilleries in Islay, Scotland's islands are renowned across the world.
"With the appointment of the first Government Islands Minister there can be no doubt of the Scottish Government's on-going commitment to our island communities. Over the summer I had the opportunity to visit a number of island communities and hear first-hand from islanders about the challenges, but also about the opportunities of island life.
"I therefore see the launch of today's consultation as the next step in helping inform the Government's work for a more prosperous and fairer future for our island communities. This consultation is an ideal opportunity for ideas to be shared before any decisions are made on what future legislation might look like."
Mr Mackay continued:

"For the first time, the pupils I met today will have the opportunity to make their voices heard and vote in a national election: an opportunity promised and delivered by this government. We want to see our island communities equipped with more power - more voice - to inform the important decisions that directly impact their way of life, and deliver equality and empowerment enshrined in law."
At the very heart of her first Programme for Government statement, the First Minister pledged to re-convene the Island Areas Ministerial Working Group to implement as many of the commitments from the 'Empowering Scotland's Island Communities' prospectus as possible within the existing powers of the Scottish Parliament, and to consult on potential measures for inclusion in a future Islands Bill.
This work is now being taken forward through the Ministerial Working Group where good progress is being made in delivering on many of the commitments the Scottish Government has made to island communities.