17/12/13 17:30
Landfill Tax Bill to tackle illegal dumping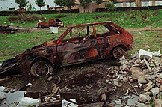 Scottish Landfill Tax to replace current UK system.
Legislation for a Landfill Tax for Scotland has been passed in Parliament today, paving the way for its introduction in 2015. Royal Assent for the Bill is expected early in the New Year.
The Landfill Tax (Scotland) Bill will replace the current UK system of Landfill Tax. The replacement tax will be collected by the Scottish Environment Protection Agency (SEPA) on behalf of the new Scottish tax authority, Revenue Scotland.
The Bill will, for the first time, allow for tax to be recovered from landfill sites where waste has been disposed of illegally, acting as a further deterrent to illegal dumping and encouraging the responsible, regulated disposal and treatment of waste.
Scottish Ministers also intend to use powers in the Bill to establish an enhanced replacement for the Landfill Communities Fund in Scotland from April 2015. Under proposals outlined during the Bill's passage, landfill tax operators will be able to contribute 10 per cent more of their tax liability to the fund, in return for tax credits, than they would be able to under the UK limit as it will exist in 2014/15.
The new tax authority, Revenue Scotland, will be established under proposals in the Revenue Scotland and Tax Powers Bill, published last week.
Finance Secretary John Swinney said:
"Landfill Tax is an important driver for change in Scotland's waste and resources management sector, making the price of landfill reflect its environmental and economic costs and helping to achieve a zero waste society and a circular economy where resources are valued.
"Scottish Landfill Tax will better align tax and environmental protection legislation, regulation and compliance regimes in Scotland.
"The Scottish Environment Protection Agency will administer the tax on behalf of Revenue Scotland, an efficient and effective Scottish solution that builds on established competence and experience here. Costs of administration are estimated to be lower than those proposed by Her Majesty's Revenue and Customs (HMRC) for a like for like tax.
"The Scottish Landfill Tax is a further significant step towards establishing the principle that taxes paid in Scotland are best managed and set by those with Scotland's interests in mind."
Notes to editors
Using powers in the Scotland Act 2012, the UK Landfill Tax will no longer apply in Scotland in April 2015, along with Stamp Duty Land Tax. There will be a corresponding reduction in the Scottish block grant. The Bill passed by Parliament today determines the nature of Scottish Landfill Tax; makes provision for Ministers to propose and the Parliament to agree rates, thresholds and exemptions; and provides for the tax to be collected and enforced in Scotland under a separate Scottish tax authority.
By ensuring that waste producers incorporate the full cost of waste disposal into business decisions, landfill tax encourages the development of sustainable waste management options, including recycling and anaerobic digestion.
Since 1997, the tax has contributed to a 32 per cent reduction in the proportion of waste sent to landfill and a similar increase in recycling. Across the UK, the tax is estimated to save in the region of 0.7 million tonnes of carbon dioxide equivalent emissions a year.
The financial savings that can be made through adopting alternatives to landfill tax are now central to the economics of waste management. Furthermore, the tax has helped establish the stable policy landscape needed to support long-term investment decisions on waste and resources infrastructure and collection systems. The replacement Scottish tax will maintain and enhance this position.
The UK Landfill Communities Fund was set up in 1996 to provide funding for community or environmental projects in the vicinity of landfill sites. The fund receives money from a tax credits scheme under which landfill operators can contribute a percentage of the landfill tax they owe (currently 6.8%) to community projects and receive a 90% tax credit in return. Under the Scottish Fund, which will be brought in by regulations under the Landfill Tax (Scotland) Bill, operators will be able to contribute up to 7.48% of their landfill tax liability to the Fund, with funding going exclusively to qualifying projects in Scotland.
Under present arrangements, UK Landfill Tax cannot be charged on disposals to landfill in sites that are not regulated – in other words, on illegal disposals. The Scottish tax will be chargeable on anyone who disposes of waste in unregulated sites. This has been widely welcome by the industry. Responsible operators using regulated sites can find their businesses undermined by unscrupulous operators who evade tax by using unregulated disposal sites.
Currently there are around 72 landfill sites operated by 54 operators disposing of around 4.5m tonnes of Scotland's waste. The majority of this was mixed wastes and mineral wastes (including construction and demolition waste) which together made up 96% of the total. About 37% of the waste landfilled in Scotland originated from households and the remainder was produced by commerce and industry.