03/02/16 10:00
Living Wage for care workers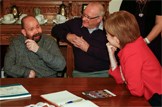 Council deal will see fairer pay for some of the most deserving workers – FM.
Workers providing care for vulnerable adults in Scotland deserve to be paid the Living Wage, First Minister Nicola Sturgeon said today as she urged local authorities to agree a funding deal that will support them to pay it to all care workers.
The First Minister said the proposals would allow councils to offer invaluable help to care workers across the country – the vast majority of whom are women – as part of a range of measures to tackle low pay and inequality set out in the Scottish Government's draft budget.
Speaking ahead of the Budget stage one debate in the Scottish Parliament, the First Minister urged local authorities to agree the deal set out by Finance Secretary and begin delivering a fair wage to social care workers in Scotland.
Ahead of the debate, the First Minister met care workers already being paid the Living Wage at St Joseph's Services in Rosewell, Midlothian, hearing how the additional wages provided much needed support for those on low incomes, allowing them to remain in the sector and carry out their important work caring for those who need it.
Ms Sturgeon said:
"The Scottish Government is committed to making Scotland a fairer place for all, and I can think of no better way to promote that ideal than by ensuring our care workers receive the Living Wage in return for the invaluable work that they do.
"The Scottish Government and local authorities have a shared aspiration to deliver and promote fairness in the work place and to work towards a living wage. The funding available in this year's budget means that can now be achieved.
"Paying the living wage for care workers - the vast majority of whom are women - will help improve the incomes of these absolutely crucial workers, retain their talents in the sector and lay strong foundations for the future as the population ages and demand for their services increases.
"We recognise that there are pressures on budgets across the whole of the public sector, however the settlement set out in the draft Budget, and contained the offer made by John Swinney to councils is a good deal that will help some of those low paid workers get the boost to their incomes that they deserve. I hope that local authorities do the right thing and respond positively to our offer."
Director of St Joseph's Services Winnie Tuohy said:
"A fair day's pay for a fair day's work – that should apply to any type of work. It is very important that when people strive to better themselves it should be rewarded.
"The values of our organisation drove us to invest in the movement. Social care has been undervalued for years. The workers have been marginalised and their value not recognised. It's about justice and equality. On top of this, this type of work is not always attractive, paying the Living Wage is a good way to promote that it is valuable work."
Cabinet Secretary for Fair Work, Roseanna Cunningham also said:
"Our continued commitment to encourage employers across the public, private and third sectors to pay Living Wage is aimed at tackling low pay and ensuring nobody misses out. The benefits to the employers who invest in their staff can be significant, including increased staff morale, reduced absenteeism and higher levels of productivity.
"From a handful of accredited employers a little over a year ago, Scotland now has 460 organisations that have committed to paying the Living Wage. This marks excellent progress in our aim to have 500 employers signed up by the end of March, and today's news is another significant step."
Notes to editors
Following extensive discussions with COSLA regarding the local government finance settlement for 2016-17 Finance Secretary John Swinney has now written to each of Scotland's 32 Council leaders, setting a deadline of February 9 to respond to the deal.
The deal will also protect the council tax freeze; invest £250 million in integrating health and social care services and maintain the pupil/teacher ratio in Scotland's schools.
The Scottish Government's 2016/17 draft budget sets out plans to invest a further £250 million per year through health and social care partnerships, to protect and grow social care services.
Within this settlement, we are making a significant enhancement to our investment in improving wages for those working in adult social care – both in care homes and those providing home care. It will allow councils to commission adult social care from the on the basis that people are being paid £8.25 an hour – giving care workers, mainly women, doing some of the most valuable work in Scotland a pay rise.