01/07/14 09:31
One million Scots in poverty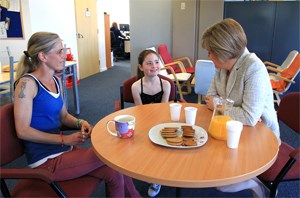 30,000 more children in poverty in last year - full powers of independence 'vital'
One million people in Scotland are now living in relative poverty as numbers increase, statistics published today show.
The largest rise in poverty was for families with children, showing:
• 19 per cent of children were living in relative poverty in 2012/13.
• This amounts to 180,000 children in poverty, 220,000 after housing costs are taken into account.
• Both have increased by 30,000 since 2011/12.
The increase in child poverty in the latest year is driven by a fall in incomes for working households with children. The reduced entitlement to tax credits has contributed to a fall in household incomes for those with lower earnings. At April 2013, there was a 26 per cent decrease in the number of households with children in receipt of in-work tax credits, compared with April 2012.
The report also shows that:
• Scotland's poorest households have seen the largest decrease in income – with a reduction of eight per cent in 2012/13 – the equivalent of £20 a week.
• In-work poverty in Scotland increased in 2012/13. Now six in ten children living in poverty are from households where at least one adult is in employment.
• In total across 2012/13, 820,000 people were living in poverty, 110,000 more than in 2011/12.
• This rises to one million people in poverty in Scotland when housing costs are taken into account.
Deputy First Minister Nicola Sturgeon said:
"Scotland is one of the richest countries in the world and there is no reason for children to be living in poverty in our society.
"The fact is that the reduction in poverty seen in recent years is now being reversed. Westminster welfare reforms, such as the reduction in in-work tax credits, are reducing incomes for some of our poorest households.
"The Scottish Government has focused on doing everything we can to mitigate the harmful effects of Westminster welfare cuts - and we will continue to do so – but the impact is still being felt by the most vulnerable in our society. What is even more worrying is that 70 per cent of the welfare cuts are still to come – Scotland will see its welfare budget reduced by over £6 billion by 2015/16. And some estimates suggest that up to 100,000 more children could be living in poverty by 2020 if we continue with Westminster policies. In other words, the unacceptable increase in the number of children living in poverty revealed by today's statistics could be just the tip of the iceberg.
"These figures show incomes are falling for families in Scotland. Our 'social contract' policies and our efforts to mitigate the impact of welfare cuts are designed to help, but we need the powers to do more. In an independent Scotland we would have the powers to provide one of the most comprehensive child care packages in Europe which would allow more parents to work. We would also be able to set up a commission to consider a new 'Scottish Minimum Wage' – which would at least rise in line with inflation - and ensure that benefits, allowances and tax credits keep rise with the cost of living.
"Today's figures demonstrate just how vital the full powers of independence now are, to enable us to create a different approach – one that supports our most vulnerable, encourages people into the workplace and provides a fair day's pay for a fair day's work."
Notes to editors
The Poverty and Income Inequality in Scotland report is available here: http://www.scotland.gov.uk/Publications/2014/07/9247
The report defines relative poverty as having a household income of less than 60 per cent of the average, and this is calculated both before and after housing costs.