11/03/14 18:00
Opportunity for innovation in Independent Scotland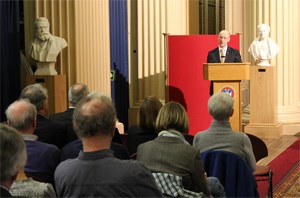 £124 million innovation investment over 5 years.
A Scottish Agency for Innovation would become the engine behind business innovation growth in an independent Scotland, Finance Secretary John Swinney said today.
Speaking to an audience at Edinburgh University Mr Swinney stressed Westminster control of fiscal levers is holding Scotland back from achieving its full innovative potential.
The Scottish Government has already made a commitment to innovation by investing £124 million, over 5 years, in a network of Innovation Centres.
Mr Swinney said:
"Scotland has many creative, innovative companies and academic institutions capable of identifying growth opportunities and delivering industry solutions. And only with independence can we create the best environment for our businesses to thrive in partnership with academia in developing pioneering and groundbreaking industry advances.
"Finland is an excellent example of a country that has already achieved this. Their innovation agency TEKES, leads on the delivery of innovation policy and we want to learn from their approach.
"We can follow Finland's lead but, more importantly, develop our own model which suits the needs of Scottish people. By establishing a Scottish Agency for Innovation we will be able to drive forward business innovation growth in Scotland.
"With the limited powers to support innovation available to us now we have already improved the international competitiveness of our universities, investing £124million in the development of a network of Scottish Innovation Centres and over £1 billion in higher education, allowing us to boost labour productivity and build on our highly-skilled workforces.
"Despite all this work it is clear that we still have much to do. If we truly want to see major changes in Scottish business innovation and are committed to transforming our economy we need full responsibility for innovation support including control of all fiscal levers.
"Careful and targeted use of tax credits and allowances in an independent Scotland could make a difference and break down the barriers which limit private investment in R&D and harness more effectively the research in our universities.
"Independence provides an opportunity, not to import models or institutions of innovation support, but to learn from others and to design systems and institutions that are appropriate for Scottish circumstances."
Notes to editors
Levels of R&D investment from the Higher Education (HERD) sector in Scotland are amongst the best in the world. In 2011, Scotland's expenditure as a percentage of GDP was third highest in the OECD.
And a Universities Scotland report shows that Scotland's Universities accounts for a 28% share of all spin-outs formed in the last 3 years. The nearest rival is London with an 18% share. (http://www.universities-scotland.ac.uk/uploads/Grow%20Export%20Attract%20Support%20Universities%20Scotland.pdf)
But business R&D investment (BERD), is below even the UK average. We need to make sure that firms of all sizes and across all sectors and geographies are thinking about innovation as a key part of their business model.
Business investment on R&D in Finland in 2011 accounted for over 2½ per cent of GDP, compared to 0.6 per cent of GDP in Scotland. Overall, in 2011 Finland had the 3rd highest total expenditure on R&D as a percentage of GDP in the OECD.
TEKES bases its approach on careful fore-sighting of prospects that will benefit Finland's economy and is then able to develop tailored innovation support programmes which take a long term view of the Finnish economy and balance out risk and reward.
This helps to equip businesses in Finland to take full economic advantage of these opportunities as and when they arise.
Key to the success of this approach is the fact that TEKES has at its command, full access to a wide range of interventions and support mechanisms and can combine these in whatever blend their customers require.
The innovation system it has created forms a key part of a broader innovation and economic strategy with the institute's activities supporting core research, collaboration across sectors and disciplines, building relationships between research institutions and firms, and supporting growth into international markets.
This is very much in contrast to the limited innovation support powers we have in today's Scotland.