20/08/14 10:50
Protecting scenic Scotland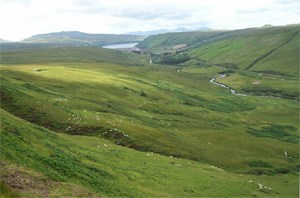 New planning controls on hilltracks.
The Scottish countryside will receive extra protection from hilltracks through new planning controls, Local Government and Planning Minister Derek Mackay has announced.
Through the introduction of a prior notification and approval process, planning authorities will be able to consider how proposed tracks will impact on the environment and intervene to ensure that design, siting and appearance are acceptable.
Hilltracks for any other purpose will continue to require full planning consent.
The requirements will be introduced across the country later in the year, and will be an extension of existing prior notifications under Class 18 agriculture and Class 22 forestry which currently apply to tracks in natural scenic areas.
Mr Mackay said:
"Without proper controls and effective enforcement measures, the construction of hilltracks can damage our environment.
"Some hilltracks can undercut the hillside and lead to side banks collapsing and hilltracks can cause damage to wild animal habitat.
"In contrast well-constructed tracks can minimise negative impacts on the environment, and in the moorlands can often prevent damage to ground nesting birds and their eggs.
"That's why it's important that planning policy strikes the right balance between meeting the needs of rural businesses but also it protects Scotland's environment, amenity and heritage.
"These new controls will ask planning authorities to weigh up proposals and consider all aspects of where the hilltracks will be built, while at the same time allowing work that does not have an adverse impact to proceed with minimal delay or costs."
Notes to editors
Mr Mackay has met with and received views from stakeholder representatives including Scottish Environment LINK, Ramblers Scotland, Mountaineering Society of Scotland, Scottish Land and Estates, National Farmers Union, Confor, Scottish Natural Heritage, National Park Authorities, COSLA and Heads of Planning.
To facilitate the transition to prior notification/approval, the fee in relation to agricultural and forestry tracks will initially be set at zero.
Historically, agricultural and forestry tracks could be constructed and upgraded under permitted development rights, meaning that provided they met certain criteria a planning application was not required.
Tracks for any other purpose (leisure, sport shooting, etc) do not benefit from the permitted development rights; they require, and always have required, a planning application to be made and permission granted.