10/06/14 11:06
Scotland's historic environment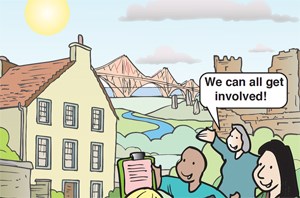 Group to lead work across heritage organisations.
A forum has been set up to lead implementation of Our Place in Time – Scotland's first strategy for the historic environment.
Cabinet Secretary for Culture and External Affairs Fiona Hyslop today announced the establishment of a Strategic Forum for Scotland's Historic Environment which will facilitate the closer working of heritage organisations and other bodies to ensure Scotland's historic environment is understood, valued, cared for, protected and enhanced.
The forum will provide strategic advice and direction on the management and promotion of our rich historic environment and oversee delivery of Our Place in Time.
It will be chaired by the Cabinet Secretary with the following members having agreed to join the forum:
Shulah Allan, Convener of the Scottish Council for Voluntary Organisations
Petra Biberbach, Chief Executive, Planning Aid Scotland
Sir Kenneth Calman, Chair, National Trust for Scotland
Stephen Carter, Archaeological Consultant
Douglas Connell, Chair, Museums and Galleries Scotland
Bill Drummond, Chair, Scottish Council for Development and Industry
Councillor Stephen Hagan – COSLA Spokesperson for Development, Economy and Sustainability
Professor Emeritus Cliff Hague, Chair, Built Environment Forum Scotland
Mark Hopton, Partner, LDN Architects
Lord David Johnstone, Chair, Scottish Land and Estates
Eleanor McAllister OBE, Economist & Planner
Maria Perks, Chair, Association of Preservation Trusts
William MacLeod, Chair, New Lanark Trust
Ian Ross OBE, Chair, Scottish Natural Heritage
Chris Stewart, Director, Chris Stewart Group.
The Chair of Historic Environment Scotland (the new lead public body for the historic environment sector in Scotland) will be invited to join as soon as they have been appointed.
Ms Hyslop said:
"Scotland benefits from a hugely rich and diverse historic environment. It is all around us and includes our iconic sites recognised across the globe and also sites of local interest which contribute so much to regional identity.
"Our Place in Time set out a strategy for our historic environment, a first for Scotland, and I am delighted to confirm that I have set up a strategic forum to oversee and lead the implementation of that strategy for the benefit of the people and places of Scotland.
"In inviting members to join the forum, I was fully aware of the need to ensure that it was widely representative and also covered those key interests highlighted during the development of the strategy, as well as key partners such as the natural environment and museums sector. I was very pleased that all proposed members accepted the invitation and have shown a huge level of enthusiasm.
"The forum will help to champion our historic environment and ensure the cultural, social, environmental and economic value of it is recognised across Scotland. Crucially, it will also work in and through the wide range of organisations on the forum and in the supporting groups which have or will be established. I look forward to working with the members as we take forward this important work."
Notes to editors
The Strategic Historic Environment Forum for Scotland is being set up to help deliver Our Place in Time – The Historic Environment Strategy for Scotland.
The strategy provides direction for the care of our historic environment and is a response to the growing realisation from stakeholders that Scotland needs a strategy, underpinned by common goals, to guide our collective efforts and to maximise opportunities over the long term.
The members have been invited by the Cabinet Secretary to participate for a term of not less than two years. This is to ensure sufficient flexibility as the forum will wish to decide on issues to cover and that might require additional or different membership. These positions are by invitation rather than through the public appointments process and are not remunerated.
The strategic forum will be supported by an operational board which will be charged with co-ordinating and managing the activities identified across the strategy. The membership of this supporting board will include representation from Historic Scotland and the Royal Commission and will link into the working groups that have already been set up under the new strategic framework. Membership of the operational board will be announced soon.
There is an accompanying web page for the strategy which can be found here.

Illustration created by graham@ogilviedesign.co.uk