31/07/14 13:10
Special poem written for Legacy handover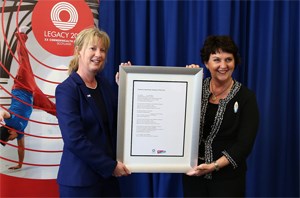 Scots Makar and Glasgow Poet Laureate pen Glasgow to Gold Coast poem.
A specially-written poem has been gifted by Scotland to Australia's Gold Coast, extending the hand of friendship to the host of the next Commonwealth Games in 2018 and beginning the formal handover of the Games Legacy baton.
Scotland to Queensland, Glasgow to Gold Coast centres around the theme of friendship, and was jointly written by the Scots Makar – national poet – Liz Lochhead, and Jim Carruth, who was unveiled earlier this month as the Poet Laureate for Glasgow.
The verse was officially published today and presented at a Scottish-Australian bilateral meeting in Glasgow between Cabinet Secretary for Commonwealth Games and Sport, Shona Robison and Queensland Government Minister for Tourism, Major Events, Small Business and the Commonwealth Games, Jann Stuckey.
During the meeting – the start of the official handover to the Gold Coast – Ms Robison shared the experience of Scotland's Legacy programme, which was described by the Commonwealth Games Federation as a 'blueprint for other host nations' and learned more about the Gold Coast equivalent – Embracing 2018.
Ms Robison said:
"As the Games pass from Glasgow to the Gold Coast, part of the XX Commonwealth Games' enduring legacy will be the learning and experience we can share to support a successful XXI Commonwealth Games.
"The symbolic gift of this poem, plus a quaich and book of children's artwork that has featured at the Athletes' Village, conveys our warmest wishes to the next Games and the potential legacy that they can deliver for the people of Australia.
"I am thrilled that we can support and showcase the talents of our national poet Liz Lochhead, and Poet Laureate for Glasgow Jim Carruth, plus creativity of young artists from across Scotland, in encapsulating these sentiments."
Ms Lochhead said:
"Glasgow is having a real city-wide friendship festival right now. I have never seen the like. The most intense - and very necessary - rivalry when striving for sports gold turning into real open human interaction and communication the moment the race is run or the match played.
"Poetry is not usually a team effort, but Glasgow's newly appointed Poet Laureate, Jim Carruth, and I were really happy to work together on producing a simple song of sincere friendship and celebration as we pass on the Commonwealth baton from Glasgow to Gold Coast."
Mr Carruth said:
"Since the first Commonwealth Games each subsequent one has been part of an ongoing journey with new friendships being formed and old ones renewed.
"The earliest journeys between Glasgow and the Gold Coast were by sea and that set up our nautical theme. Underpinning the poem is our nation's promise to renew friendships and rivalries in four years' time. Glasgow wish the Gold Coast all the very best with their Games.
"It was wonderful to be involved in this poem and to work with Liz Lochhead in creating a truly collaborative gift for our friends in Australia."
Queensland Minister for the Commonwealth Games, Ms Stuckey said,
"I want to thank Liz Lochhead and Jim Carruth for their beautiful poem, gifted to us, on this special trip to Glasgow. It's exciting to join the festival atmosphere in Glasgow and witness first-hand the incredible legacy being created by the Commonwealth Games.
"During our visit, we will learn from Glasgow's experience and ensure the lessons learned will benefit planning for the Gold Coast 2018 Commonwealth Games.
"I would like to thank our colleagues in Glasgow for their generosity in sharing their knowledge and experience. Following the launch of Embracing 2018 I look forward to working towards the best legacy outcomes and the benefits from hosting the next Commonwealth Games."
A book was also presented during the bilateral containing inspirational messages from young people around the Commonwealth. These messages, collected during the Queen's Baton Relay, form part of '33Fifty', a national Legacy 2014 youth leadership programme. It is hoped that a similar document will once again accompany the Queen's Baton, travelling through each of the Nations and Territories, before arriving on the Gold Coast in 2018.
Notes to editors
Handover
Scottish and Australian officials are already in contact over the handover of knowledge and experience around Games' delivery and legacy and Queensland representatives are taking part in the official transfer of knowledge programme for Glasgow 2014. A ministerial delegation has been in Glasgow during Games-time.
Poets
A full biography of Liz Lochhead is available at: http://www.scottishpoetrylibrary.org.uk/poetry/poets/liz-lochhead
A full biography of Jim Carruth is available at: http://www.scottishpoetrylibrary.org.uk/poetry/poets/jim-carruth
High-resolution pictures of Ms Lochhead and Mr Carruth are available on request. For interview bids with the poets on July 31, contact Colin Waters at the Scottish Poetry Library on 0131 557 2876.
The full text of the poem is below – please note, as per the wishes of the poets, the spacing is deliberate and we would appreciate if you could maintain that.
Scotland to Queensland, Glasgow to Gold Coast
Friendship is a real boat,
Clydebuilt like the best of them,
pride and strength in every rivet and spot weld.
A vessel to last lifetimes, to carry a bond
not severed ever by distance.
The good ship Friendship sails between Glasgow
And your far, your golden, coast.
May fierce friendship forever flourish
Between each competing nation and their host.
So after passing on the baton
Scotland to Queensland,
Glasgow to Gold Coast,
There remains a passion for far more
than future medals won.
The good ship Friendship sails between Glasgow
And your far, your golden, coast.
May fierce friendship forever flourish
Between each competing nation and their host.
We await your call for we have begun to dream.
In the hold: promises to keep, athletes
primed to compete, impatient for the day we set sail
on an ebb tide of auld lang syne to a
landfall welcome of kaiala.
Jim Carruth & Liz Lochhead
Note: Kaiala – aboriginal welcome in Gold Coast meaning 'good wishes'.
LEGACY
Legacy 2014 is working to secure a lasting legacy for Scotland from hosting the Games. There are more than 50 Legacy 2014 national programmes and more than 80 supporting Legacy 2014 projects in Scotland. More information is at: www.legacy2014.co.uk and www.scotland.gov.uk/AssessingLegacy2014
GOLD COAST
Further information on the Gold Coast Games is here: http://www.gc2018.com/
33FIFTY
Delivered in partnership with Common Purpose and the Royal Commonwealth Society 33Fifty is a global programme bringing together 100 18-25 year-olds from across the Commonwealth to learn leadership skills. Further information is here: http://www.33fifty.org/