04/11/13 16:46
Tipping point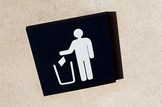 Increased penalties for littering and flytipping.
Litter louts will be hit with tougher fines from April 2014.
Environment Secretary Richard Lochhead has confirmed Fixed Penalty Notices (FPNs) for littering will rise from £50 to £80 while flytipping offences will quadruple to £200 from April 1 next year, if backed by the Scottish Parliament.
It follows the National Litter Strategy Consultation in which two thirds of respondents indicated they were in favour of increasing the penalties. This consultation will help shape Scotland's first national litter strategy since devolution which will be launched in 2014.
Mr Lochhead said:
"With more than 250 million items of litter and over 60,000 flytipping incidents a year, it is imperative that we deal with this problem. We should not let the irresponsibility of some spoil our beautiful country.
"We want people to see the benefits of stopping littering and to take responsibility for their own actions for the right reasons. However, we know that the risk of a financial penalty is going to be a significant motivator for some.
"At least £53 million of public money is spent tackling litter and fly tipping each year. This is public money which could have been better spent on other services. These increases send out a message that littering and flytipping will not be tolerated.
"By strengthening the enforcement system, we will begin to deter future offending as we move towards the first ever National Litter Strategy for Scotland, which we will publish next year."
Councillor Stephen Hagan, COSLA Spokesperson for Development, Economy and Sustainability:
"Scottish local authorities want to see as much litter as possible being prevented. A significant amount of local authority resources are spent tackling litter issues.
"We welcome this early action by the Scottish Government in response to the recently published consultation on a National Litter Strategy for Scotland. Local authorities are committed to working with their communities and partners to reduce the negative impacts of litter and fly tipping through a variety of means of which fixed penalty notices are one."
Notes to editors
The £200 fixed penalty fine for flytipping provides a proportionate alternative for less serious incidents. There are a number of other sanctions available for more serious offences. Currently someone could face a £300 Fiscal Fine, or prosecution in court with the consequence of a fine of up to £40,000 - and/or imprisonment for up to 12 months - if convicted.
These punishments for flytipping, combined with the significant new financial penalties proposed in the Regulatory Reform (Scotland) Bill and the Landfill Tax (Scotland) Bill, both currently before Parliament, means that there will be a variety of penalties available
Zero Waste Scotland's research Scotland's Litter Problem: the scale and cost of litter and flytipping and infographic is available at: http://www.zerowastescotland.org.uk/LitterResearchReport
Litter and fly tipping key facts:
• At least £53 million of public money is spent tackling litter and fly tipping each year
• Indirect costs, such as impacts on crime and house values are at least another £25 million
• Over half the population of Scotland admits to having dropped litter
• Approximately 250 million individual items of easily visible litter are cleared up each year
• Half of these items could have been recycled. They include valuable materials like plastic bottles and aluminum cans. Recycled, these would be worth £1.2 million to Scotland's economy
• At least 26,000 tonnes of waste is also dumped illegally in fly tipping activity